Are you looking to attend the best psytrance festivals in the world? You have come to the right place! We have explored the map and put together the best psychedelic gatherings across Europe, North America, South Africa, Africa and Asia.
Wherever you go in the world, a music festival filled with psytrance can be found – we promise!
There are so many music festivals to choose from – our event calendar often lists over 150 festivals from around the world. So how do you know, which ones are the best, and which ones might be bogus?
The music festivals and psychedelic gatherings below offer something unique, making them worth a long distance travel, and ticking off your psytrance festival bucket list.
Festivals are sorted by date.
HillTop Festival 2019
Where: Goa, India
When: 08 February to 10 February 2019
The Indian psychedelic scene is thriving and Hill Top has been in the mix for almost a decade.
The psychedelic scene in Goa is thriving, home to 7000 bars, and Hill Top has been in the mix for almost a decade – celebrating its 8th edition in 2019.
While the local scene has faced pressure from local authorities shutting down events, HillTop Festival is still a worthwhile event to attend. Be sure to also check out their sister event, Chill Top Festival.
---
Festival Ometeotl 2019
Where: Mexico
When: 12 April to 14 April 2019
The word Ometeotl refers to the Aztec God or higher power. Ancient practices and ceremonies are integrated into this festival, which makes it really unique.
The festival grounds are tranquil, with a small lake that separates the two stages from the camping area. The market, visionary art gallery and food court are also all nearby.
For the psychedelic music lovers, there's a ton of fantastic music across the two dance floors. But there is still ample space to chill out, relax, and regroup.
---
Vortex Parallel Universe 2019
Where: South Africa
When: 20 April to 22 April 2019
Vortex Parallel Universe is a 3-day experience that takes place over Easter weekend. The psychedelic trance festival will return to the Circle of Dreams in Riviersonderend for its 2019 edition, roughly 2 hours drive from Cape Town in a beautiful forest setting.
---
Respect Festival 2019
Where: Brazil
When: 18 April to 21 April 2019
Respect has helped shaped the psychedelic trance scene in Brazil for 10 years with over 18 parties during that time. In 2019 the festival will follow the theme of 'Woodstock' to bring 4 days of love, alternative culture, music and conscious life in an atmosphere showered with friends and lots of positive energy. The venue is a natural paradise, quiet with beautiful falls of waterfalls, lakes and wide green area, besides structure like natural shade camping and a swimming pool.
---
Mundo de Oz 10th Anniversary 2019
Where: Brazil
When: 26 April 2019 to 05 May 2019
Mundo de Oz is yet another popular Brazilian festival in Aldeia Outro Mundo, Lagoinha. Now heading towards its 10th edition, the festival has been growing in numbers. Be on the lookout for some of their other events including ReveillOz #5 – 2018/19 over NYE and Mo:Dem Festival Teaser Brasil 2019 next year.
---
Psychedelic Experience Festival 2019
Where: Germany
When: 30 May to 02 June 2019
Psychedelic Experience Festival takes place in Northern Germany, in a town called Lübz. You'll experience delicious German cuisine and cool psychedelic side-activities will be present at this spectacular event with a main stage hosting a variety of psychedelic music.
---
DOOF Festival 2019
Where: Israel
When: 07 June – 09 June 2019
The DOOF Project was born back as an underground party organization in 1996 with the formation of their label, DOOF Records, coming later in 2002.
Now veterans of the Israeli psytrance scene, the DOOF Festival has taken place since 2004 and has grown into a 3-day festival. This year will be the 16th edition of DOOF Festival.
---
Burning Mountain Festival 2019
Where: Switzerland
When: 20 June to 23 June 2019
The unique location lies in the Engadin Valley of the Swiss Alps, one of the highest inhabited valleys of Europe, home to 1000 people. Following the end of the ice age, an 80-kilometre long valley opened up in the modern Swiss canton of Graubünden, at a height of 1,800 metres above sea level. It's a perfect location for a psytrance festival!
Around summer solstice 2019 we gather in the magic surroundings of the Engadine Valley in the Swiss Alps to create culture, art, music and community.
The art theme for 2019 is "Shangri-La" which is often used in a similar context to "Garden of Eden," to represent a paradise hidden from modern man. It is sometimes used as an analogy for a lifelong quest or something elusive that is much sought. It also might be used to represent perfection that is sought by man in the form of love, happiness, or Utopian ideals.
---
FLOW Festival 2019
Where: Austria
When: 04 July to 07 July 2019
FLOW Festival will return for its 10th edition in 2019 taking place in Tritolstraße in Austria. The intimate Austrian gathering includes two dance floors, catering for psychedelic and progressive lovers respectively. FLOW Festival takes place during the Austrian summer months.
---
Antaris Project 2019
Where: Germany
When: 05 July to 08 July 2019
Celebrating their 25th anniversary, Antaris Projekt (Against War! For Friendship, Peace and Freedom) is one of the earlier psytrance festivals in the [German] season and is known to be a welcoming environment for the whole family and foreign visitors. Did you know, Germany is Europe's second largest beer drinking country!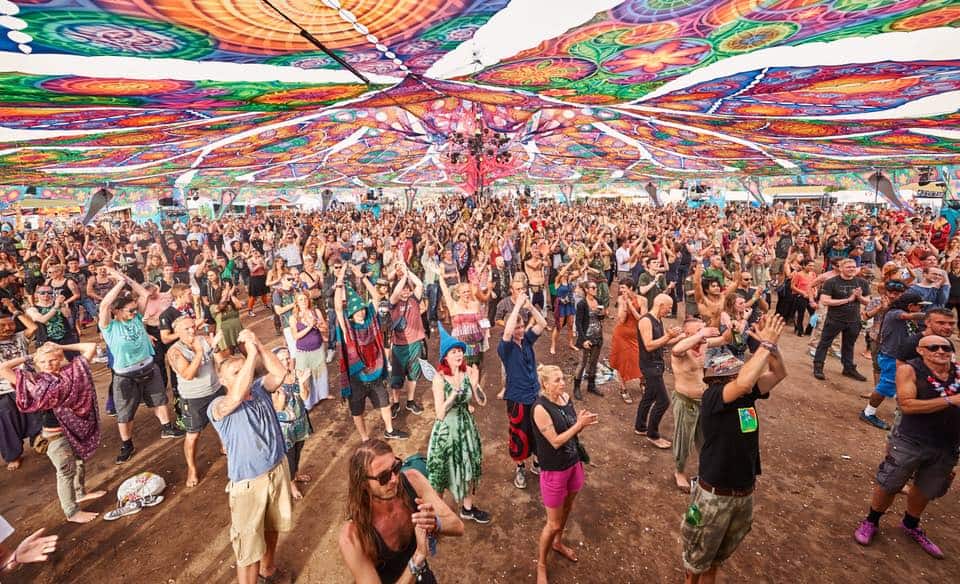 ---
Lost Theory Festival 2019
Where: Spain
When: 09 July to 15 July 2019
Confirmed Artists: Sensient, Triforce, Fabio Leal, Atmos, Eitan Reiter, Megalopsy, Logic Bomb, Transwave, Total Eclipse
Lost Theory Festival spent many years in Croatia but moved to Spain in 2015. The festival now takes place in the beautiful mountain region of Las Hurdes / Las Batuecas. They've got all the amnesties to make this week-long experience comfortable with banging psychedelic music across several stages in an intimate crowd.
---
Noisily Festival Of Music & Arts 2019
Where: United Kingdom
When: 11 July to 15 July 2019
Read: Interview with DJ Ipcress
Confirmed Artists: Captain Hook, Waio, Scorb, Whiptongue, Kliment, Township Rebellion, Alex Stein
Set deep in the rolling hills of Leicestershire at the heart of rural England, Noisily Festival of Electronic Music and Arts lies in one of the most beautiful wooded valleys in the country.
Totally contained amongst the trees creating a safe haven where hedonism and escapism can flourish and thrive, Noisily Festival 2019 will play host to some of the most exciting musical talents from the UK and abroad, along with a plethora of performance, innovative installations and mind-bending visual arts.
---
S.U.N Festival 2019
Where: Hungary
When: 15 July to 21 July 2019
The S.U.N (Solar United Natives) Festival includes members from the original Ozora Festival team and has been hosted festivals since 2013. The Hungarian festival will return in 2019 and fall over a Full Moon and Lunar Eclipse. The festival also aims to have more live music concerts during the evenings.
---
Shankra Festival 2019
Where: Switzerland
When: 17 July to 21 July 2019
Confirmed Artists: Goa Gil (24 hour set), Altruism, Aphid Moon, Electrypnose, Hypnoise, Juno Reactor, Logic Bomb, NOK, Kabayun, Protonica, Perfect Stranger, Khainz, Emok, Creator
At Shankra Festival you'll get to dance, laugh and be blessed between the gigantic mountains in Lostallo (Graubunden). This Swiss psytrance festival has a valley which invites you to deepen your level of consciousness by offering you the ideal wonderful space to fully express yourself. Goa Gil will perform a 24 hour set at the 2019 edition.
---
VooV Experience 2019
Where: Germany
When: 19 July to 22 July 2019
Confirmed Artists: Captain Hook, Tristan, Astrix, Ace Ventura, Atmos
The VooV team have been throwing parties in Germany for decades and are one of the oldest promoters in the country. Their earlier festivals gathered upwards of 20 000 attendees. After a slight hiatus, VooV returned in 2014 and has been growing ever since. The German festival currently takes place in Putlitz, between Hamburg and Berlin.